This year Graham Chewter preached at our Good Friday service from Luke 23 on the words 'there they crucified him'. David Kay was with us for our Easter Sunday services, drawing our attention to the power of Christ's resurrection.
You may have seen our Easter message 2023, entitled "Hope through change."
Hope through change
In the last 2 years, we have experienced some big changes to our lives. A pandemic, war in Ukraine, soaring costs and new technologies have all led to a great deal of change. On a smaller scale, we witness change in our village and in our personal lives.
All this change can leave us feeling quite overwhelmed. Whilst some change brings heartache and sadness, other change brings joy and opportunity. At Westoning Baptist Church, we've experienced change too – we thank God for a new pastor joining us at the start of the year and new people we've welcomed to our church recently.
Through all this change, the Bible tells us that God remains the same. Outside of time and immune from change – God is eternal. This gives us hope because God always sees his promises through.
Every good gift and every perfect gift is from above, and cometh down from the Father of lights, with whom is no variableness, neither shadow of turning.
– James 1:17
God kept his promise to generations before of giving his son Jesus to pay the penalty we owe for breaking God's law – paying it himself as he died on a cross. He also promises to everyone that believes and follows him that he has prepared a place for them where he is now – in heaven. This is the Christian's expectation.
God hasn't promised that this life will be free from worry, heartache or sadness but that his good news is unchanged and that he himself remains the same.
We look forward to Easter when we think about the death and resurrection of Jesus Christ, and the promise of eternal life. If you would like to know more, come and join us for our Easter services.
But God commendeth his love toward us, in that, while we were yet sinners, Christ died for us.
– Romans 5:8
Easter activity sheets
Jesus journeys towards Jerusalem.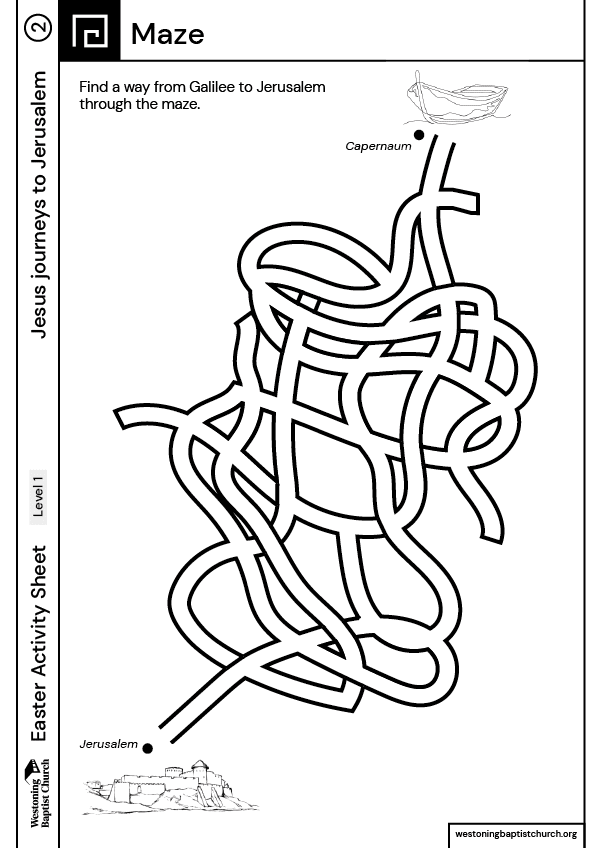 Jesus journeys from Galilee to Jerusalem.
People sing praises as Jesus enters Jerusalem.
Jesus betrayed and put on trial.
Jesus dies and rises again 3 days later.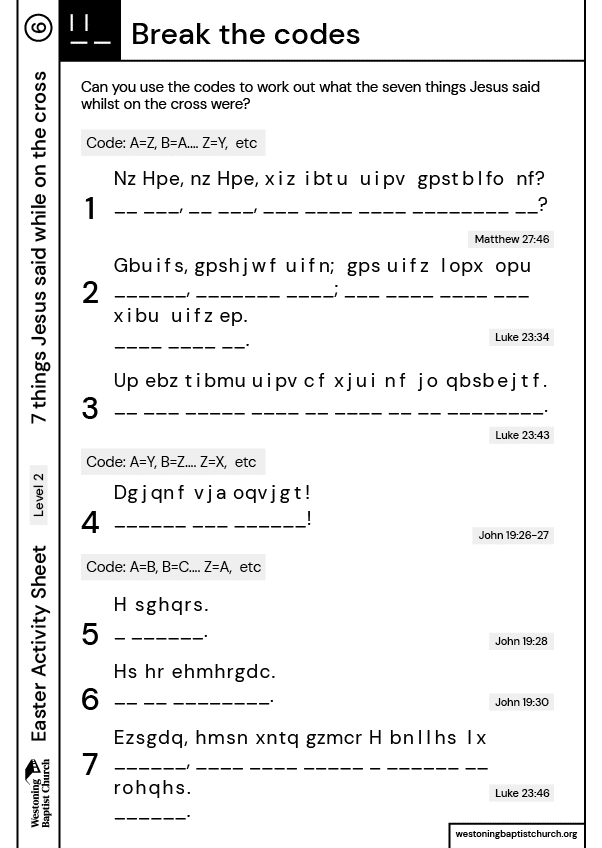 7 things Jesus said on the cross.